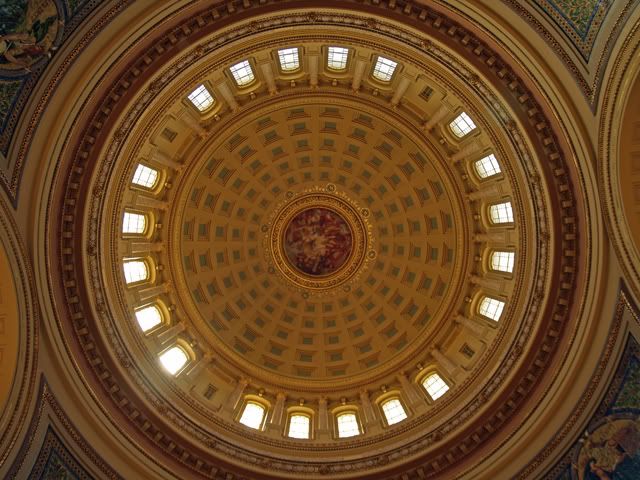 Interior of the dome from the rotunda.
Last summer during my weekend in Madison, I got to go to the Wisconsin Capitol. This is a very impressive building in many ways. The Capitol has four wings, giving the building the symmetry of an "X" shape. Built in the first decade of the 20th Century to replace the previous capitol which was destroyed by fire, the building boasts the largest dome by volume of any in the United States. It is also the only dome built only from granite. Two hundred feet above the floor of the rotunda is "Wisconsin Resources", a painting on the dome's interior by artist Edwin Blashfield, and the outside is graced by a gilded bronze statue, "Wisconsin", by Daniel Chester French. The Wisconsin Capitol is also the only capitol in the country built on an isthmus, as downtown Madison lies on a strip of land separating Lake Mendota and Lake Monona.
The interior of the capitol is crafted of various colors of stone, wood, and gilding, and is very aesthetically pleasing. Some of the stones contain ancient fossils.
In 2001, the Capitol was designated a National Historic Landmark. By state law, no building within a mile of the Capitol may be taller than the base of the columns which surround the dome, insuring the building's place in Madison's skyline.
The city of Madison is one of the more freethinking areas of Wisconsin, and home to one of the nation's most visible advocacy groups for protecting the separation of church & state. To counter officially-sponsored religious displays, every December, the Madison-based
Freedom From Religion Foundation,
places a plaque at the Wisconsin Capitol that reads:
At this THE WINTER SOLSTICE may reason prevail. There are no gods, no devils, no angels, no heaven or hell. There is only our natural world. Religion is but myth and superstition that hardens hearts and enslaves minds.
The FFRF has also previously placed a similar plaque in Colorado near the creche mentioned in the post below about Denver's holiday lights, but it has been regularly stolen or vandalized. They eventually included the Biblical command, "Thou shalt not steal" on the back of the plaque.
There are many things to see there, but the Wisconsin Capitol building is well worth the time to visit when in the Madison area.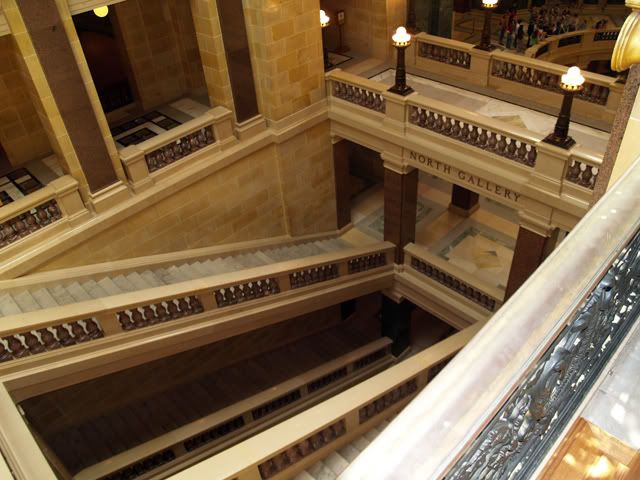 Interior stairwell near the North Wing.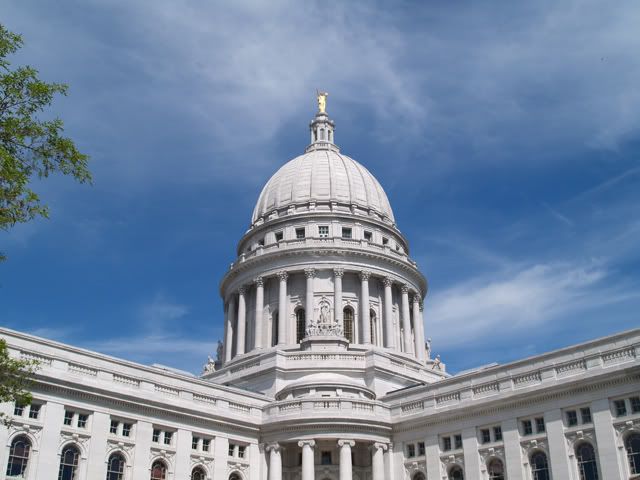 Exterior of Wisconsin Capitol Dome.