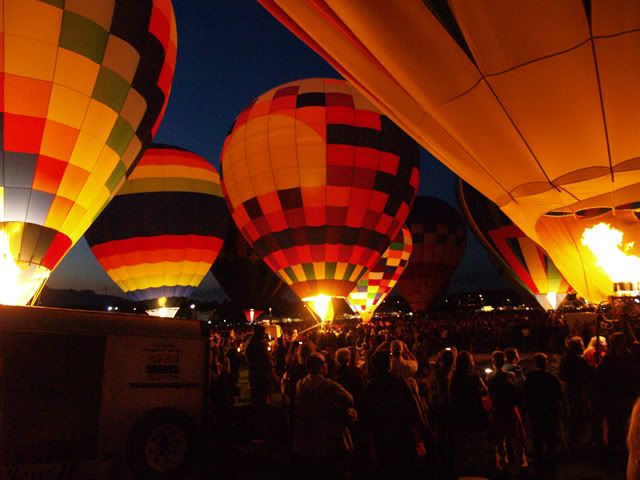 Night-time "Balloon Glow" in Colorado Springs
Hot air ballooning has experienced a revival of popularity over the last 40-to-50 years, and balloonists look for places with the right air currents and conditions for flight. Every year, balloon aficionados converge on Albuquerque, New Mexico for the world's biggest balloon fest. Along the way, they meet in a number of towns to hold smaller events.
I have been to two such balloon festivals, one in Tulsa, Oklahoma back in 1994, and another in the summer of 2006 in Colorado Springs, Colorado. One of the most visually appealing parts of the balloon festival is the night-time
balloon glow
. The balloons are not safe for night travel, but instead remain anchored to the ground and the owners crank up the flames simultaneously to light up their balloons.
Today, most hot air balloons are made of rip-stop nylon, and come in a variety of shapes, of course along with the traditional globular shape. They also often advertise their sponsors (see the photo below). Yet they can hot air balloons trace their history back to the Montgolfier brothers, who lived in France in the 18th Century. Joseph Michel Montgolfier and his brother, Jacques-Etienne Montgolfier accomplished the first human ascent in their
globe airostatique
, which carried a physician and an army officer aloft.
The photo above is from the balloon glow at last summer's Colorado Springs festival. Someday, I hope to get down to Albuquerque to see the big balloon festival there. That one has become such an attraction that it is featured on New Mexico's license plates.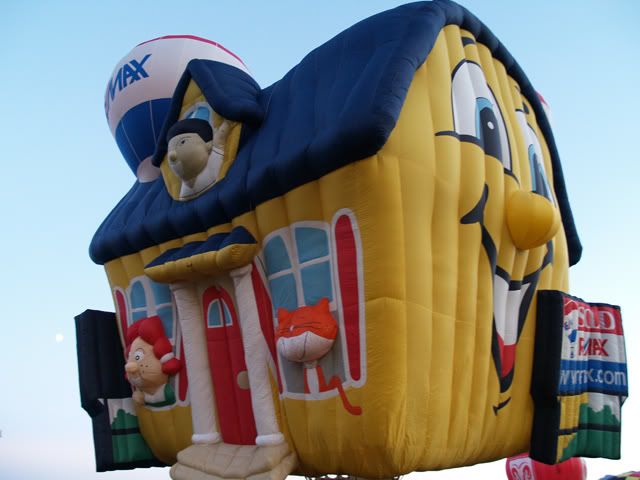 Re/Max advertising balloon